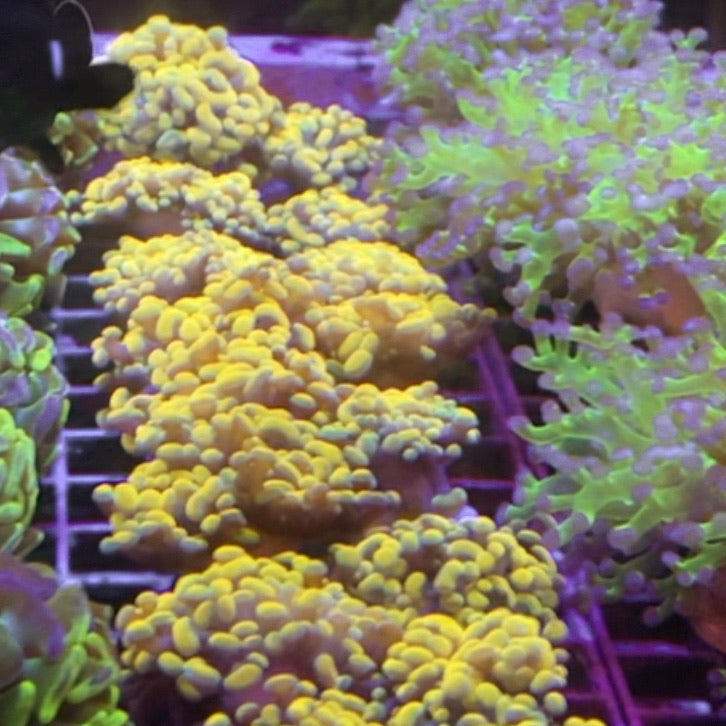 LCH Yellow Gold Branching Frammer Coral
$ 89.00
You will receive one of the fast growing yellow gold branching hammer/frogspawn heads in the center row. They exhibit a hybrid look with both round and hammer like tips.  They are small 1 head each although you may receive one that is actively splitting. These are top grade golds. I have not seen a yellow gold hammer that can beat the coloration or hardiness of these. Full size adult head get up to 2.5" however as they split into multiple heads it will look like a single large head. 1 head will split and grow into 2-4 heads every 5-6 months. 
Like almost everything listed on the site this is fully aqua-cultured. It was purchased by a local reefer at the 2012 Ohio Reef Frag Swap. The local reefer cultured and distributed many heads here in Dayton and I was lucky enough to get a few. From those I have grown a good 100 heads over the past couple years. You can do the same with this hardy colorful hybrid hammer 
I highly recommend pairing this up with the orange frammer listed here. Mounted next to each other they give great contrast making them pop in the reef tank. If you have a green frogspawn or hammer mounting that near for a trio looks fantastic!
Thriving!
My first frammer and what a way to start! Beautiful yellow polyps. Very happy with purchase.
Gold Frammer Coral
Nice specimen. I looks like it's trying to develop another head. Would definitely order again from this company.